konS ≡ PARK – Academy for contemporary investigative art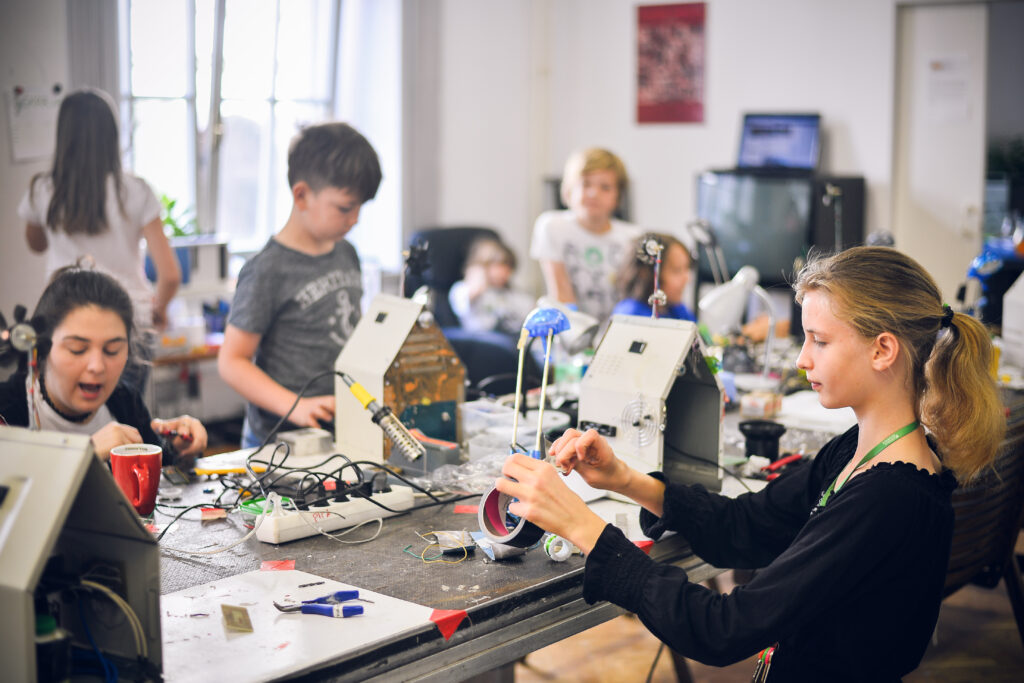 The konS Academy was established primarily to build an audience in the field of contemporary art research, to sensitise young people and the general public to change, understanding of science, technology, art and to develop attitudes that help us understand the dynamics of contemporary society in order to empower young people to use new technologies.
We are living in a very exciting time, when humans have become the most powerful species on the planet and have radically impacted the environment and destroyed the natural balance of the Earth's ecosystems. New scientific knowledge (i) is enabling us to better understand our coexistence with other species, to rethink what the planet has to offer and how we will make use of it, and (ii) is reminding us to consider sustainable solutions in many ways. Through the workshops we develop and run at PARK, we try to culturalise the use of new technologies so that young people develop a critical attitude towards them and learn how to use them, as technologies are extremely powerful tools. New technologies can be used in many creative and constructive ways.
Authors and practitioners of the workshops presented in the exhibition: Nastja Ambrožič, Lavoslava Benčić, Dr. Julian Chollet, Eva Debevc, Leon Dolničar, Tadej Droljc, Andrej Fon, Miha Godec, Jakob Grčman, Ida Hiršenfelder, Sanja Hrvaćanin, Stella Ivšek, Luka Jare, Bor Jarh, Lovrenc Košenina, Martin Krauser, Vesna Krebs, Gregor Krpič, Borut Kumperščak, Denis Lederhas, Lea Lipnik, Junoš Lukan, Taja Oblišar, Tara Pattenden, Jurij Podgoršek, Eva Pondrk, Katarina Radaljac, Anja Romih, Uršek Slivšek, Celeste Sanja Smareglia, Ana Smerdu, Saša Spačal, Kristijan Tkalec, Staš Vrenko, Jaka Waldhütter, Veljko Zejak
Production hubs: Ljubljana – Kersnikova: Kristijan Tkalec, Petra Vanič; Projekt Atol: Tina Dolinšek, Rea Vogrinčič; Ljudmila: Tine Vrabič, Anže Zorman; Cona: Irena Pivka Novo mesto – Sonar: Gašper Beg
Maribor – Inkubator: Marko Lük, Eva Nađ, Monika Pocrnjić
Velenje – Nukleus: Maruša Skornišek
Nova Gorica – Xcenter: Mojca Stubelj Ars,  Jernej Čuček Gerbec, Mia Lorbek
Video testimonials: directed and edited by Maja Andlović, director of photography Domen Ožbot