C-lab – Interactive collaborative platform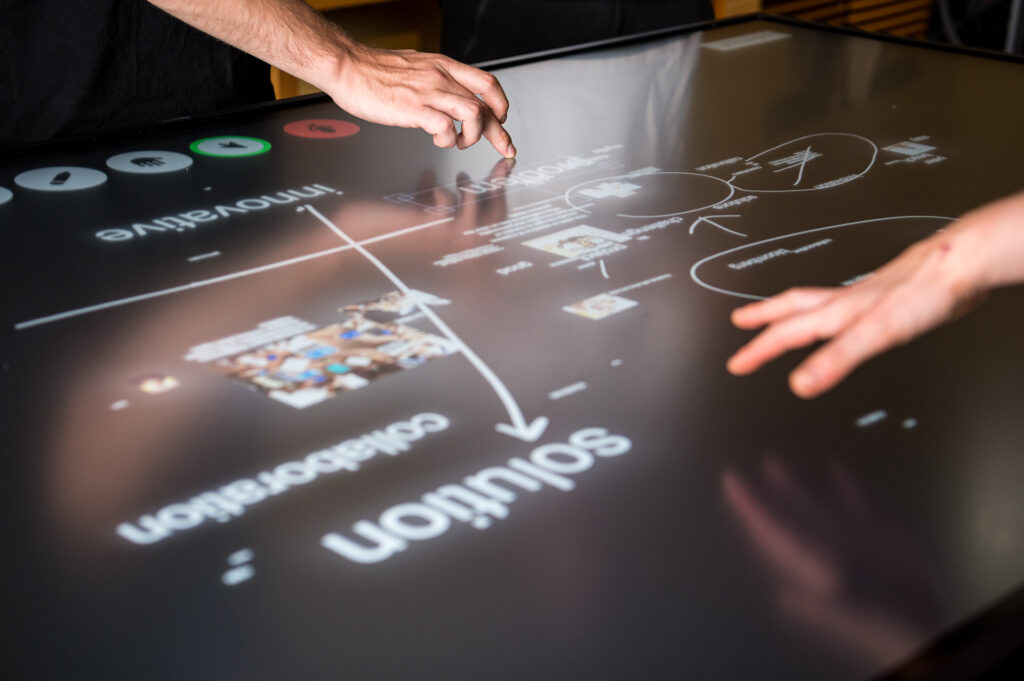 The idea of a tool facilitating a creative process involving an interdisciplinary group motivated us to design an interactive room, a setting in which a landscape of articulated thoughts, references and sketches surrounds the innovators. The process is controlled by an innovation catalyst that 'translates' different professional languages into a comprehensive speech, promoting the pursuit of common goals.
This idea has given rise to the so-called challenge lab, in which spoken words are assembled by artificial intelligence into semantic grids that overlay interactive screens, mapping the essential parts of a conversation. The topography of presented thoughts can be moved arbitrarily and new connections can be made. This allows innovators to pinpoint micro-locations of ideas, which are then assessed for their potential usefulness. These ideas can be instantly visualised, sonified or written down by artificial intelligence, which thus becomes a conversation partner in the design of possible solutions. With these possible solutions, the innovation catalyst leads the co-creators through the different stages of innovation or to the proposals suitable for final prototyping.
Authors: Marko Damiš in collaboration with Mario Dobaj, Martin Košir and Dorijan Šiško
Production: Youth Centre Velenje, konS ≡ Praksa / Challenge Lab
Partner: 127 Institute
Fabrication: Fabrikaid Ltd.
Innovation catalyst: Jurij Krpan
Producer: Lea Lipnik
Acknowledgement: Davor Kazija